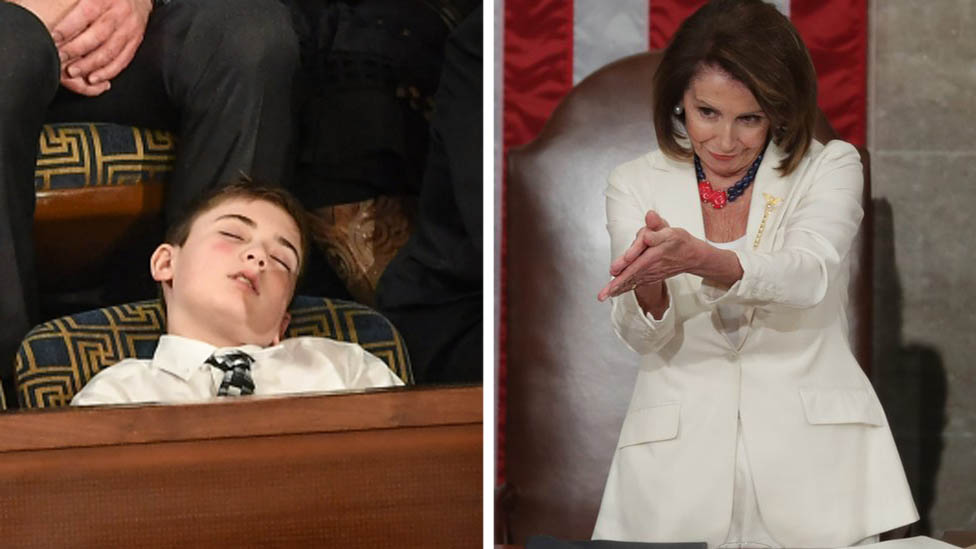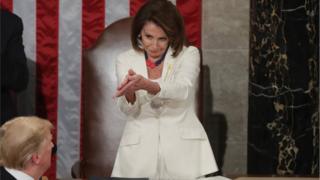 As US President Donald Trump delivered his State of the Union address to Congress, many people took to social media to discuss the event.
Among the political analysis and partisan debate, a number of altogether more light-hearted talking points came up.
The #PelosiClap
It is perhaps unsurprising that Nancy Pelosi became the subject of one of the most popular memes on the night.
The new House Speaker, de facto leader of the Democratic Party, sat behind President Trump during his address and is one of the most high-profile opponents of the president.
Many on social media thought this political rivalry was captured in a photo of Ms Pelosi applauding after Mr Trump called for compromise in politics.
The image, termed the "Pelosi clap", quickly went viral.
It came after Mr Trump broke traditional protocol by not waiting for the customary introduction from the House speaker before beginning his speech.
The women in white
Women on both sides of the house made a powerful political statement by wearing white to celebrate the centenary of women's right to vote in the US.
The move highlighted how many more female Democrats there are compared with Republicans.
The female representatives sat stony-faced as President Trump said "no-one has benefited more from our thriving economy than women".
After the president said that women "filled 58% of the newly created jobs last year", they started enthusiastically cheering and clapping each other.
Many of the Democratic lawmakers cheering took office after the recent mid-term elections, which saw a record number of women elected, and the Democrats win a majority in the House of Representatives.
The irony of this was not lost on many Twitter users.